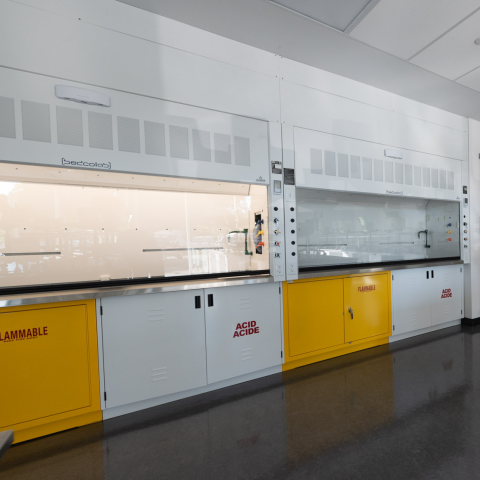 Employees at Royal Roads, like those in many workplaces, occasionally use or come into contact with hazardous products.
To ensure workers' safety at all times, RRU takes steps to do the following:
replace hazardous products with non-hazardous ones whenever possible
minimize workers' contact with hazardous products
ensure workers use personal protective equipment, which is provided by the university
Our processes and guidelines are maintained in RRU's Workplace Hazardous Materials Information System.
Education and training
If you're a worker who uses or comes into contact with a hazardous product, your supervisor will train you on the product and how to use it safely.
You'll also receive training in emergency spill clean-up procedures, which are part of emergency preparedness plans. You can find these procedures posted in your workplace.
Royal Roads follows the WHMIS 15 Globally Harmonized System.
Labels
All hazardous products have product identification labels from the manufacturer or supplier in accordance with WorkSafeBC rules. If a hazardous product is delivered without such labeling tell your supervisor. Your supervisor will know to contact the supplier immediately to provide proper labels.
If you take a hazardous product from its original container and place it into smaller containers, you must attach a new workplace label to the new containers. Ask your supervisor for a label.
In addition, tanks, piping systems and storage containers must be labelled with information on contents, hazards and precautions for handling the contents.
Safety data sheets
RRU has safety data sheets that provide detailed information on hazards and safe handling for each hazardous product on campus.
The Environmental Studies lab in the Sherman Jen building and the Operations and Resilience department have electronic or hard copy versions of these sheets; you will also find hard copies at work locations such as mechanical and custodial rooms.