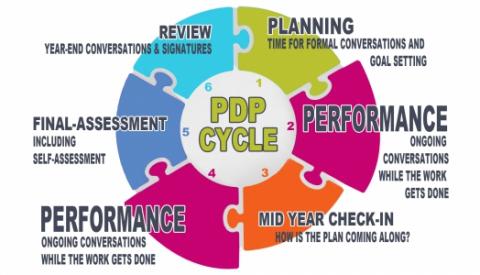 As an excluded or exempt employee at RRU you'll take part in performance and development planning (PDP) activities throughout the year, to help you set — and strive to align your goals and performance with that of the University.
These resources will help you plan for the PDP process.
PDP schedule
You'll begin the PDP process by setting goals with your manager that will enhance your personal and professional growth.. You'll check in together at the mid-year point and again at the end.
Planning phase: completed by July 31
Performance phase Q1-Q2: October 15
Mid-year check-in: completed December 15
Performance phase Q3-Q4: completed by March 31
Final assessment: completed by May 30
Review phase: completed by May 30
Your role in the PDP process
You'll receive support throughout the process from Human Resources and your manager.
The resources below will help. Read about your role in the PDP process, how to use the e-PDP system and how to make the best of the experience.
Using the e-PDP system
If you require training in using the HR Smart e-PDP system, contact your Human Resources Consultant for a one-on-one discussion in how to add Goals, Competencies and Journal entries.
Resources
You'll consider Royal Roads' organizational goals when you set your own through the PDP process. These university resources will help you focus your priorities:
Frequently asked questions
The PDP system has a lot of moving parts. Start with these FAQs to help you along. Information includes where to find your PDP from previous years, how to develop personal goals from RRU's strategic goals and how to set notifications in the e-PDP system.
Read the PDP frequently asked questions for staff.
Conversations with your manager
You'll have a PDP check-in with your manager several times a year. In these meetings, you'll discuss the progress toward your goals and reflect on the ways your competencies and skills support that progress.
These three documents provide prompts to help you focus the conversation on topics most important to you:
Rating scale
As you and your manager reflect on your performance, you'll use this established rating scale to help you assess yourself.