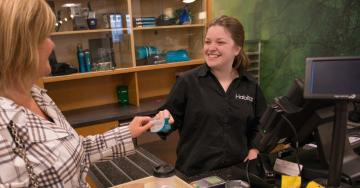 Feel good about what you eat at the Habitat Café on campus.
The Habitat Café is committed to being socially responsible and building awareness about the benefits of eating locally. Food is prepared with seasonal ingredients and products grown in BC.
Discount for staff and faculty
Eligible staff and faculty receive a 10 per cent discount on orders (not applicable on liquor sales). Show the cashier your RRU ID before you pay to receive the discount.
Value card bonus
Buy a prepaid Habitat Café value card, and you'll receive a 10 per cent bonus for every $100 that you spend. You'll get an extra $10 when you spend $100; $20 when you spend $200.
Talk to a Habitat cashier about purchasing a value card. You can buy one at the cafeteria and kiosk.
Locations
Habitat Café has two locations on campus:
cafeteria-style in the Grant building
kiosk in the Sherman Jen building