New employee orientation
Orienting a new employee is a group effort. We want to make the first days of starting a new position at Royal Roads a welcoming, informative and meaningful time — one that makes a great and lasting impression.
Orientation is a process, not a one-time event. First impressions are important, but your new employee will need your ongoing support. The ongoing experience can make or break the relationship.
The HR team has designed our orientation process to help new employees quickly feel at home and become productive and successful members of our community.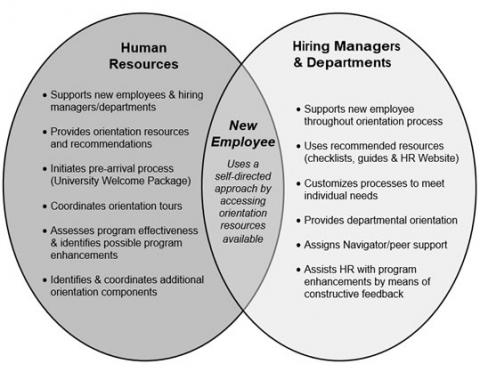 The orientation partnership
The diagram shows how we work together during new employee orientation and who does what.
Your role in orientation
Royal Roads considers orientation a key component of management responsibilities. We've outlined the steps you can take as the hiring manager to welcome and orient your new hire.
Leading effective departmental orientation
Here are tips to help managers lead an effective, thorough departmental orientation:
Involve all team members to foster healthy working relationships from day one. You could also choose a member of your department to help with orientation.
Make sure the new employee has the tools and resources they need.
Model RRU's organizational culture.
Influence positive first impressions and attitudes about the workplace.
Encourage two-way communication to create an environment of trust and honesty.
Help develop a positive employee-manager relationship.
Customize your departmental orientation by providing the new employee with copies of the following:

departmental organizational chart
departmental orientation package
departmental strategic outcomes/mission/visions statements
list of who to call for what and how
list of departmental meeting times and appointments with key people
outline of department office and break hours (if applicable)
After attending department-specific orientation, the new staff member should:
be aware of how things happen in their department
feel like they are part of the team and are supported by their manager and colleagues as they settle in
have the resources and information they need to be successful
know the goals and vision of their department and how they fit in
understand what they need to do and the big picture of why
HR's role in orientation
Orienting a new employee starts after the recruitment and selection process. Some elements of the orientation happen before an employee's first day; some happen on the first day; and others take place on an ongoing basis.
Our responsibilities include:
new employee workshop
welcome package and gift
providing information about payroll, benefits and vacation
campus tours of Hatley Park National Historic site
Orientation outcomes
Your new hire will take part in an RRU-wide orientation and a department-specific orientation.
After attending the RRU-wide orientation, we hope that they will:
experience, understand and adopt RRU's culture and values
feel welcome as a member of the RRU community
maintain and build on the atmosphere that makes RRU special
understand ways they can align their work goals to the university's strategic goals and vision
 
The personal touch
Joining a large institution can feel overwhelming. Taking the time to connect personally can make a big difference and help your new hire feel welcomed and appreciated. Here are some ways to do that:
Encourage team members to include their new co-worker in social activities and events.
Plan to be there on your new employee's first day.
Start talking about why you are excited about your new employee before they arrive.
Take the time to get to know your new staff member, personally and professionally.
Ideas from RRU employees
Here are tips from your colleagues to help you roll out the red carpet for your new hire:
Get together over breakfast or lunch to celebrate new employees joining the team.
Give a small gift (flowers or fun objects) to help them through the first week!
Place an RRU greeting card with a welcome note from the department on their desk.
Take a team picture together on the first day.
We wish you and your new employees a successful and enjoyable orientation experience.