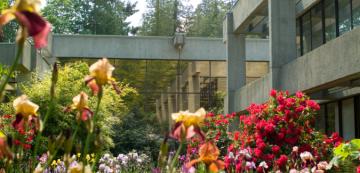 Welcome to Royal Roads. We're so glad you've joined us.
We've assembled information and tips about your first weeks as a new staff or faculty member.
We strive to be a welcoming community, where you can thrive professionally and personally.
On your first day
Here are a few practical things to take care of on your first day at Royal Roads:
Meet your colleagues to clarify departmental guidelines and work schedules.
Check out your workstation and ensure you have the supplies you need for your duties.
Take a tour of the office area and key campus locations with your manager or navigator.
Stop at the Welcome Desk (located in the Sequoia Building) to get your ID card and parking pass, if required.
Visit Human Resources (Millward building, 3rd floor) to drop off your signed contract, as well as benefit forms, if required. Then head to Arbutus building to get office keys.
See Payroll (Millward building, 3rd floor) to submit your payroll forms.
Log on to your computer and complete your mandatory RRU orientation training on the Moodle site. Learn to navigate electronic workgroups and personal files, and become familiar with phone and voicemail systems.
Meet with the benefits administrator about your benefits package.
Meet with a human resources consultant about your collective agreement, if applicable.
Remember we have beautiful grounds that stretch across 565 acres of oceanfront parkland. You'll want to explore some of campus on foot, so wear some comfortable shoes.
Week one and going forward
Here are some recommendations for your first week and beyond at RRU:
Familiarize yourself with departmental outcomes and priorities, as well as the information applicable to you on this website.
Consider professional development opportunities through Professional and Continuing Studies or LinkedIn Learning, and learn about tuition assistance.
Become familiar with the performance and development planning process and prepare for quarterly meetings with your supervisor.
Contact your HR consultant to book an ergonomic assessment of your workstation if needed.
Staying connected at RRU
Every Friday, you'll receive an email with the week's Crossroads highlights, noting key community news and events for staff, faculty and contractors at Royal Roads.
Here are other ways to stay connected at RRU:
HR programs like Lunch 'n' Learn workshops, monthly employee tours, walking/running groups
Check with Human Resources to learn more.