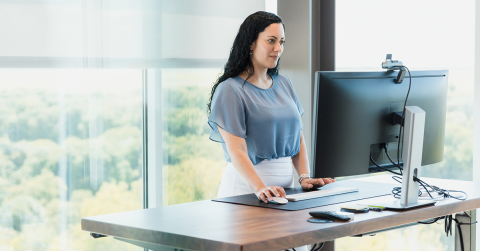 Good workplace ergonomics means fewer injuries. If you're comfortable in your work space, you'll feel your best. And, you'll reduce the potential for soft tissue injuries and musculoskeletal issues.
Here's the ergonomic support available to help you stay comfortable at work:
Ergonomic analysis and improvements
RRU has staff trained to examine work spaces on campus to find and fix ergonomic risks to staff and faculty. We also bring in contracted experts to assist.
These ergonomic professionals will consider the following when examining your work space:
physical demands of your work activities
the layout and condition of your work space
environmental conditions
organization of the work you do
Based on the examination, you'll receive recommendations to improve your work space and protect yourself from injury. You might be advised to adjust your chair height, use a wrist pad for your mouse hand, or change your desk posture to alleviate pressure on your neck and back.
Education and training
You can help protect yourself by identifying early signs of injury caused by ergonomic issues.
Your supervisor, in consultation with the Joint Occupational Health and Safety Committee, will provide you with education and training to help you notice when discomfort may be alleviated by improved office ergonomics.
Your supervisor will also help you follow work procedures and use mechanical aids and personal protective equipment to minimize risks so you stay safe and comfortable.
Continuous improvement
In consultation with the JOHSC, we'll continually review our efforts to improve office ergonomics for staff and faculty.