Our shared vision
At RRU we live our core values of being caring, creative and courageous. Our staff, faculty and associate faculty help us achieve meaningful change as a university, to benefit our students and everyone who works here, our community and the world.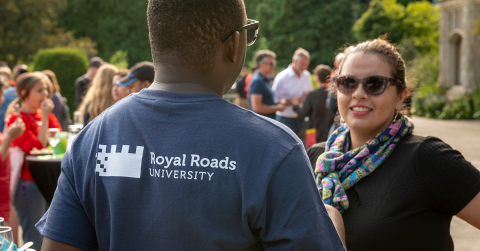 Welcome!
Hay'sxw'qa Si'em! ƛ̓ekoo ƛ̓ekoo! Gilakas'la! Marsee!
Royal Roads University is led by the vision to "inspire people with the courage to transform the world."
Thanks to your contributions, we celebrated our 25th anniversary as a public university in 2021. We launched a bold new strategic plan built on meaningful goals to take us into the next 25 years and beyond.
A strong sense of place
Our campus is a global online community.
It's also nestled in an old-growth forest on the shores of the Pacific Ocean on the Lands of the Xwsepsum and Lekwungen ancestors and families.
Past, present and future, this place is special because of the people who work, research and learn here.
RRU is committed to reconciliation and to equity, diversity and inclusion. You'll find an environment that creates strong connections, a place where you and your professional goals are furthered and encouraged.