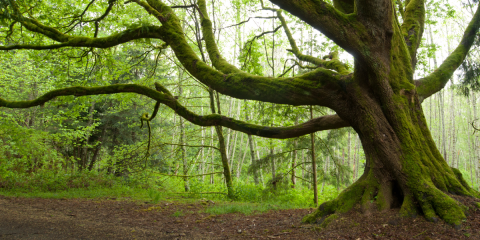 Many of Hatley Park's 565 acres are covered with tall, ancient trees, which means Royal Roads takes the threat of forest fires seriously.
The forest fire evacuation plan was completed in June 2021, to keep staff, faculty and students safe.
Here is a summary of what you can do before and during a forest fire emergency:
Preparing for an evacuation
To prepare for a forest fire emergency evacuation, you should know the locations of the nearest fire alarms, emergency exit routes and designated assembly points from your workplace.
In case of fire
If you see a fire or hear a fire alarm (i.e., bell, horn or strobe lights), raise the alarm verbally, pull the fire evacuation alarm and call 911.
Then:
Clear the building and follow the evacuation route — with guidance from emergency wardens — to the designated assembly point. Keep off roadways to allow clear access for emergency vehicles.
Notify an emergency warden or assembly point coordinator if you know of anyone who is injured, needs help or did not evacuate.
Once at your assembly point, await instructions — an "all clear" or "exit campus."
Understand that if an exit route off campus is affected or blocked, alternate routes have been planned, so watch for directions from the incident commander.
Note: Operations and Resilience team members will be at key locations to direct people to appropriate/safe exit routes.