All about your learning and development
U-Learn is our employee learning and development framework, designed to inspire your personal and professional growth.
Through U-Learn, staff and faculty can connect with learning opportunities, like workshops, courses and programs, at Royal Roads and through other institutions.
You'll get to engage in what we do best at Royal Roads: learning for life.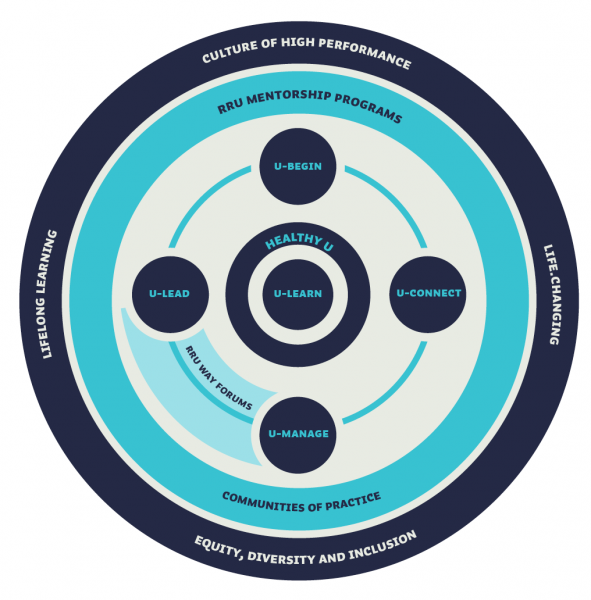 Benefits of U-Learning
When you say yes to learning opportunities through U-Learn, you'll be better positioned to:
align your skills, knowledge and abilities to support RRU's mission, vision, goals and values and business objectives
achieve department and unit goals and objectives
meet and exceed your performance development goals
develop clear links between competencies and learning and development opportunities
develop clear paths and ladders between U-Learn, professional development workshops, professional and continuing studies certificates and diplomas, and Royal Roads degree programs
build your skills, knowledge and attributes
increase employee engagement
improve employee satisfaction
increase sharing of information
Start learning here
You can start learning today, by following these learning paths. Each document gives you suggestions of learning opportunities available to you as a Royal Roads employee:
External U-Learn opportunities
U-Learn also supports external professional development opportunities with outside agencies, such as those offered by the University of Manitoba:
Coming soon
Mentorship program
The RRU mentorship program will connect staff and faculty at all levels with a mentor within the organization. Mentors and mentees will set goals together and attend monthly group and individual meetings over the course of six months.
The program will accept 10 staff or faculty members per offering.
Watch Crossroads for information on how to take part.
RRU Way forums
We'll be launching RRU Way forums, to help leaders at RRU increase their understanding of our leadership and management systems and processes.
Topics are being developed with senior leaders. They may include: understanding the university environment, Indigenous cultural awareness, operating and capital budgets and navigating performance development plans.
Watch Crossroads for information on how to take part.