Royal Roads University has commenced negotiations for the renewal of the 2019-22 collective agreements for both CUPE, representing Royal Roads' employees working in Operations and Resilience and in Campus Services, and Royal Roads University Faculty Association, representing RRU faculty.
Provincial Mandate
Public sector bargaining in British Columbia is governed by the provincial government, through the Public Sector Employers' Council Secretariat. RRU's collective bargaining mandate is set by the provincial government, through the 2022 Shared Recovery Mandate.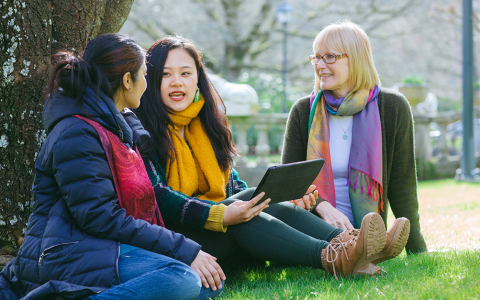 CUPE Local 3886 
Latest updates
6.75% wage increase starting June 1, 2023
March 30, 2023
On Tuesday, the Province announced that the new inflation figures confirm B.C. public sector employees with ratified collective agreements will receive the maximum 6.75% cost of living increase for Year 2 of their agreements. 
At Royal Roads, this means CUPE employees will see a 6.75% wage increase effective June 1, 2023. The June 9th pay statement will reflect the new wage. 
As negotiated in our new 2022 – 2025 Collective Agreement, CUPE employees have already received a general wage increase in February backdated to June 1, 2022, which included a flat amount of $0.25/hour, followed by a 3.24% increase. This second increase on June 1, 2023, provides CUPE employees with over a 10 percent increase in their wages in 2023. 
We are working to get the new Collective Agreement with updated wage grids done as soon as possible. Paper copies will be provided to the executive to share with their membership. 
Ratification of CUPE Local 3886 Collective Agreement
January 26, 2023
On Thursday, January 26, CUPE Local 3886 and Royal Roads University Board of Governors ratified the three-year Collective Agreement for the period from June 1, 2022 to May 31, 2025. CUPE members voted 99% in favour of ratification and there was unanimous ratification by the Board of Governors.

Tentative three-year agreement reached
January 18, 2023
CUPE Local 3886 reached a tentative agreement on Wednesday, January 18. The agreement covers a three-year period from June 1, 2022 to May 31, 2025. 
The negotiating teams are recommending the agreement for ratification to the Royal Roads University Board of Governors and to Union members. The ratification process will occur this week. 
Union members who have questions are encouraged to speak to their shop steward or negotiating team. Other employees are encouraged to direct their questions to Human Resources. 
RRUFA
Latest updates
Tentative collective agreement negotiated.
August 2023
RRUFA and Royal Roads University have negotiated a three-year tentative collective agreement. The terms of the renewal collective agreement is from April 1, 2022 until March 31, 2025.

The parties are very pleased to have reached this settlement. RRUFA recommended it to their members and it was ratified on August 18, 2023. The RRU Board will meet shortly. The ratification process will occur in the next 7 - 10 days.
Follow-up meetings scheduled
February 16, 2023
RRU and RRUFA scheduled the next round of meetings for February 23 and 24, 2023.
Bargaining kicks off between RRU and RRUFA
January 2023
Initial bargaining meetings took place between RRU and RRUFA for the renewal of the 2019-22 collective agreement.