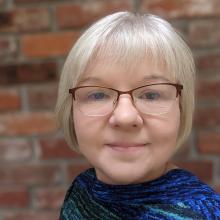 Cecilia David
UW Campaign Chair, 2022
United Way Committee
Cecilia has worked at RRU since 1995, mostly in IT Services but occasionally joining a tech enabled project or two doing change management and communication work. She has been involved with the United Way campaign for many years.
She has served as committee chair several times and, in the fall of 2015, she joined United Way as a loaned representative from RRU. During this time, she learned more about what United Way does for our community as she helped some of the two hundred other workplace campaign committees achieve success in their own efforts.
When not chairing the campaign, she helps manage gaming licenses and raffle draws, and maintains web content.
She works with a campaign chair committee year-round, helping United Way provide the right support services for other workplace campaigns and collaborating with peers.
Why is she involved in United Way fundraising efforts?
As an individual, my reach is small. But when I join forces with other RRU members and employees in other local organizations to raise money for United Way funded programs, I am part of a group that can help my own community members to be less lonely, less hungry, and more independent. It may sound selfish, but the easiest way for me to do the most good is by being a part of this big group of individuals and organizations. And it feels great to help others!