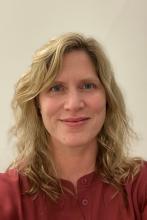 Kyla McLeod
Member
United Way Committee
Kyla McLeod has been involved with the RRU United Way campaign for about 6 or 7 years and has held various roles within the committee, ranging from event coordinator to campaign chair. 
What she likes most about being on this committee is the ability to try different roles and to engage at different levels.  There is a place for anyone and everyone on the RRU UW committee, regardless of how much time you can share or how much experience you bring.  It is also a wonderful way to meet people who work outside of your department or unit.
I am involved in the United Way fundraising effort because I believe that when we pull together, we are stronger, and we can have a greater positive impact within our community. I also appreciate having early-access to the Library's bake sale treats.