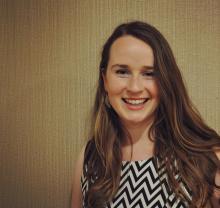 Emara Angus
Communications Officer
United Way Committee
Emara has worked at RRU since 2019 starting in marketing and now on the global partnership and recruitment team. Emara has been involved with the United Way campaign pretty much since her first day on campus!
Prior to working at RRU, she was a passionate United Way supporter who served as the employee campaign co-chair in both 2017 and 2018 while working at The Chamber.  
In past years, Emara has enjoyed organizing her department's Period Promise campaign, auction donations and raffle ticket sales. This year, we're fortunate to have Emara take on the role of communication officer for the campaign.
The United Way positively impacts the lives of people in our local community and that's a cause I want to be a part of! Supporting people in our community with what they need to be healthy, connected and empowered. Whether that's mental health resources, nutritious meals, senior services or BC211 – these are initiatives that help our community thrive.
Contact me